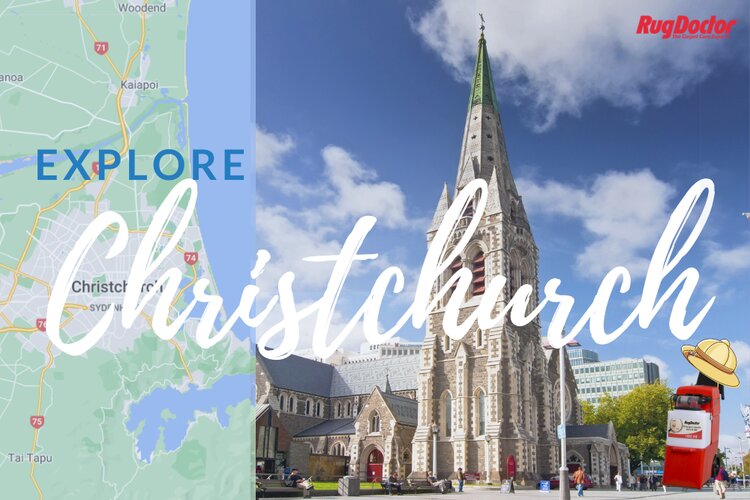 5 Spots to Visit in Christchurch: The Great NZ Road Trip
Welcome to the South Island's largest city, one that is constantly evolving and revealing it's best-kept secrets to those that wish to find them. In Christchurch you'll find cutting-edge architecture next to some of New Zealand's oldest buildings. You'll be discovering urban street art one minute and enjoying the tranquility of the Avon River the next.
In the wake of being hit with devastating earthquakes in 2010 and 2011, the city has re-shaped itself with innovative ways of coping with tragedy, and is a vibrant, charming city that will surely steal your heart.
Here are a few quick recommendations that didn't make our top 5 spots but still needed a mention:
Christchurch has blossomed into one of our country's most unique destinations, blending urban regeneration with the city's heritage, with plenty of culture to absorb and heaps of activities to keep you busy. Here are our top 5 spots to visit in Christchurch:
1. Christchurch Botanic Gardens
Suitable for: people of all ages, families, comfortable with light walking
Christchurch is called "The Garden City" for a reason, and a visit to the beautiful Christchurch Botanic Gardens will let you know why! In every season of the year, you'll be treated to a range of flowering gardens, native gardens full of NZ's most iconic plants, and several conservatories housing some fantastic collections of plants.
The visitor centre has a café and gift shop, there's a paddling pool and playground for the kids, and the gardens are also home to plenty of artworks and sculptures for you to discover as you wander. Visiting the park is free and you can easily spend a whole day here finding new things around every corner. And if you want to continue your stroll, the wide-open space of Hagley Park is just next door.
2. Christchurch Tramway
Suitable for: all ages, no walking required
Start your visit to Christchurch by getting to know the city a little better with a ride on the Christchurch Tram. These heritage trams take you on a guided tour of the city's landmarks and attractions, and a full-day ticket allows you to hop on and hop off as you please.
The tour offers an informative and interesting commentary as you ride around the city, and you can board from any of the tram's 17 stops, with trams running every 15-25 minutes. This is an excellent way to see the city from the comfort of a tram and learn about it's redevelopment since the major earthquakes last decade.
For a unique dining experience, you can also treat yourself to a Tramway Restaurant tour! Christchurch's Tramway Restaurant is the only one in New Zealand, and you'll get to experience the luxury of a colonial-style dining tram that incorporates fabulous dining with a sightseeing tour. If you're keen to try a unique dining activity, check out the menu now!
3. Air Force Museum of New Zealand
Located in Wigram, the suburb that was home to the Royal New Zealand Air Force's (RNZAF) first operational base, the Air Force Museum preserves our country's military and aviation history.
You can engage with over 100 years of history at the birthplace of our Air Force, and the museum has six different buildings housing a collection of historic relics from local efforts as well as objects obtained from former enemy forces.
While an Air Force Museum might not appeal to everyone, this attraction will be a huge hit with the kids, and you're bound to walk away with some new knowledge and respect for the history of our nation's Air Force. Admission is free and the museum is open daily from 9.30am to 4.30pm.
4. Riverside Market
Suitable for: calling all Foodies!
Riverside Market is a bustling indoor market that sells locally-sourced food, and is home to some fabulous restaurants, cafes and bars. The market is open 7 days a week and is a great place to start your food tour of the South Island!
The Market itself will give you a taste of everything, from fresh meat and fish, to locally brewed craft beer, to hot sauce. If you haven't started drooling yet, we should probably also mention there's coffee, donuts, cookie-pies, and gourmet chocolate and candy!
We haven't even started on the eateries. If you're not sure whether there'll be something you like, let us just say that there's Mexican, Japanese, Korean, Italian, Greek, German, Malaysian… you should probably just check out the list for yourself!
There's also laneway shopping, perfect for picking up a little gift for someone special (or for yourself). We recommend visiting Riverside with an empty stomach and a full wallet.
5. International Antarctic Centre
The International Antarctic Centre is right next to Christchurch Airport and has some fantastic experiences that are completely unique to this popular attraction, giving you new insight into our planet's iciest and most remote continent.
If you haven't been penguin-watching before, the centre is a must-visit. The Antarctic Centre is home to a group of little blue penguins, New Zealand's smallest (and cutest) penguins, and is the country's first combined indoor and outdoor penguin viewing area. They only house rescue penguins and you can watch feeding time at 10.30am and 3.30pm each day.
For a more extreme experience, the Storm Dome is the closest thing you can get to experience an Antarctic storm without actually being in one - the room is chilled to -8 degrees Celsius and buffeted by a -18 degrees Celcius wind chill machine!
At the International Antarctic Centre, you'll learn all about the first Antarctic expeditions, modern day life on Scott Base, and the future of humanity on ice. General admission is $29 for children and $49 for adults.
Download the FREE Rug Doctor 12 Stains of Summer Guide
We've put together the perfect companion for your great Kiwi road trip - the 12 Stains of Summer Stain guide. In the guide, we cover off all of the common summer mishaps from how to get tomato sauce out of the carpet, all the way to tanning lotion on the upholstery. You can grab the guide for free by clicking below.