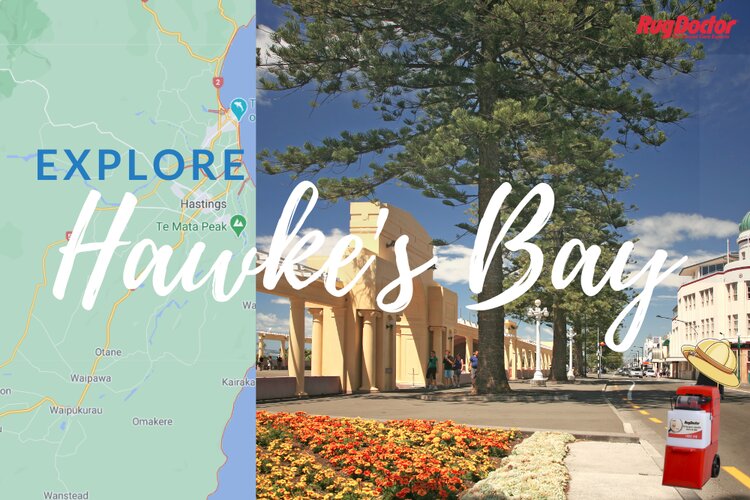 5 Spots to Visit in Hawke's Bay: The Great NZ Road Trip
The spot on the New Zealand map known for long and hot summer days, fields of fruit and sprawling wineries with scenic backdrops, and it's historic art deco architecture preserved from the rebuild in the Napier CBD following the February 1931 earthquake, Hawke's Bay has truly taken on an identity of its own.
Whether you're a family looking to pack in a weekend of kid-friendly activities, or a group on your annual road trip wanting to pack in beach days and winery tours, Hawke's Bay is a definite summer must-do.
To showcase the best that sunny Napier and Hastings has to offer, we've selected our top five favourite places and things to do in the region, so you can make the most of your trip.
Without further ado, here are our top five locations to visit in the Hawke's Bay, New Zealand during the summer months.
1. Marine Parade, Napier
The bustling beachfront hub of Napier city, Marine Parade is known for drawing the crowds throughout the year thanks to it's number of family-friendly activities, restaurants and cafes, as well as the 3km long stretch of boardwalk that overlooks the ocean. Marine Parade is so packed with activities in fact, that we thought it deserved it's own segment entirely!
For the kids, there's a recently developed bike pump track to take the BMX for a spin on, which neighbours an equally adrenaline fueling Bay Skate skate park that you can jump on without a membership for only $6.00, which even hosts roller derby, scooter and skating events if you'd prefer to watch the action than be in it.
For a hot summers day (or maybe later in the evening when it cools off a bit!) we'd highly recommend visiting the Ocean Spa and Wellness Centre, complete with spa pools, a lap pool, cold pool, a sauna, and steam room that overlook the ocean.
A few steps away, there's The National Aquarium of New Zealand, where you can catch the 'Penguin of the Year' candidates in real life, enjoy the thrill of watching reef fish and shark feeding, and learn a thing or two around what lurks beneath New Zealand waters.
There really is a little bit of something for everyone on this bustling strip on the southern fringe of Napier City.
2. Splash Planet, Hastings
A real hidden gem that's only open seasonally each year as the weather heats up, Splash Planet is a must-do attraction that's loved by tourists, but also holds a place in the hearts of the locals for a brilliant way to spend a summer's day.
This is a water park in the true sense of the word, filled with giant, towering slides that twist and turn, speed slides to go head-to-head in races with your friends, bumper boats, large pools of varying depths and even a lazy river if you'd prefer to spend the day relaxing on an inflatable.
It's not just the water-based activities that draw the crowds, the park also boats 'Formula Fun' go-karts, jungle jeeps, mini golf, volleyball and even an express train to entertain the younger kids.
We can't speak highly enough of the spot and it's a definite for any summer road trip through this region, so pack a picnic lunch, grab your togs and sunscreen and enjoy a day filled with adventures, laughs and tonne of water.
3. Cape Kidnappers, Hawke's Bay Headlands
Cape Kidnappers/Te Kauwae-a-Māu is a stunning sandstone headland that marks the southernmost part of the Hawke's Bay, and is home to largest and most accessible gannet colony in the world - yup, in the world. If you're feeling up for an adventure and brought your activewear on holiday, this is definitely a sight to see!
The most important thing to know about this walk is that often it can only be completed at low tide, so you'll need to leave Clifton no sooner than 3 hours after high tide, and depart the Cape no later than 1 hour and 30 minutes after low tide to avoid being blocked off by the incoming tide.
The walk itself begins on a flat beach where you'll pass stratified rock beds and fault lines that underlie coastal Hawke's Bay, cliffs of sandstone with fossilised shells, and have the opportunity to marvel at the extreme forces of nature that shaped this area of New Zealand.
Once you climb the hill and reach the gannet colony, the masses of sea birds (with wing spans of up to two metres!) will be an overwhelming site. There have been known to be up to 25,000 birds in total at any given time, who'll be nesting, diving in and out of the ocean to catch fish and thriving in this isolated and perfect environment for breeding.
If you're a nature enthusiast or bird-watching fan, this is the trip for you.
4. Wineries and Vineyard Tours, Hawke's Bay
It wouldn't be a blog about the Hawke's Bay region without shining a light on one of our wine capitals of New Zealand. As the second-largest wine region in NZ, Hawkes Bay is home to over 100 individual vineyards and 80 wineries, drawing tourists from far and wide to taste the beautifully made wine year on year.
Of course, we wouldn't recommend driving for these, and luckily, there are a bunch of tour operators available that offer shuttles, E-bikes and buses to transport you from winery to winery.
We'd highly recommend making a day of it and spending some time at one of the wineries for lunch as well. After a day in the sun looking out over the vines, you'll feel like you're living a life of luxury and be able to unwind and appreciate just how stunning this area of New Zealand is.
Since there are so many, when it comes to picking which winery you want to visit we'd recommend checking out these Trip Advisor reviews to narrow it down, but no matter which direction you go in, you won't be disappointed.
5. Ranui Farm Park, Flemington
This little gem is one of the best adventure filled activities in the Hawke's Bay Region, without a doubt. Ranui Farm Park isn't your standard farm park you find in most New Zealand rural towns, it's an adventure and mountain bike park that offers a variety of both relaxing and exhilarating activities for visitors of all ages, and abilities.
On any given day, the farm park boast mountain bike trails for any type of rider, from the most extreme to the 'on the bike once a year' type. In fact, there are over 30km of tracks that range from a hand built single track to wide machine built trails.
However, this spot shines best on the first Sunday of every month where they hold 'Sunday Fundays'. Here, families are encouraged to bring along some snacks and settle in for a day of activities. These include a 95m flying fox, archery, a golf challenge hole, target paintball, an obstacle course, and one of the most exciting attractions: a giant, 70m waterslide!
Pack your togs, a change of clothes and head on over, and if you're really game, bring a tent and camp in their on-site campground for a night or two!
Download the FREE Rug Doctor 12 Stains of Summer Guide
We've put together the perfect companion for your great Kiwi road trip - the 12 Stains of Summer Stain guide. In the guide, we cover off all of the common summer mishaps from how to get tomato sauce out of the carpet, all the way to tanning lotion on the upholstery. You can grab the guide for free by clicking below.