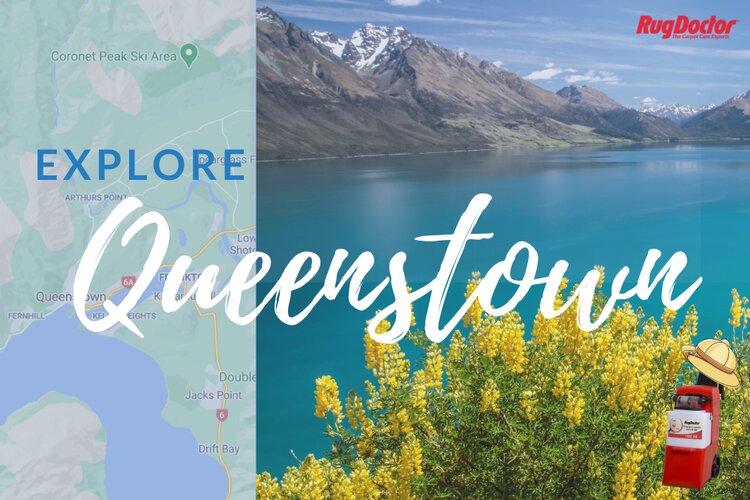 5 Spots to Visit in Queenstown: The Great NZ Road Trip
One of New Zealand's most iconic and picturesque holiday destinations, the Queenstown region has been a historical hotspot for international and local tourists alike, and has been rediscovered and cemented as the national treasure that it is ever since COVID-19 reached our borders.
But what makes Queenstown so special in the hearts of Kiwis? Traditionally a spot to visit during the winter months thanks to the mountainous landscapes and popular Cardrona Alpine Resort, there's actually a lot the township has to offer during the summer months as well.
Colloquially known as New Zealand's 'home of adventure', there is an abundance of things to see and do during your visit. If you're a fan of a stunning vista, you'll enjoy marveling at the natural wonders, like Lake Wakitipu and Wanaka, admiring the aptly named 'Remarkables' or exploring the Milford Sound national park.
On the flipside, if you prefer getting the adrenaline flowing and pushing the limits, you can walk away with an unforgettable experience, from bungee jumping, to jet boating, to luging, paragliding and the infamous Nevus canyon swing - there are endless opportunities for excitement waiting to be taken advantage of.
Without further ado, here are the Rug Doctor team's top five picks for the Queenstown region during the summer months - let us know if you've tried any before!
1. iFLY Indoor Skydiving
Have you ever wondered what it would feel like to float in mid air, arms and legs outward, suspended in mid air by nothing at all and fly? Short of jumping out of an aeroplane, there aren't many ways to take flight, but the iFLY centre in Queenstown offers an out-of-this-word experience for those that are willing to take the leap.
Suited-up in a full body jumpsuit, you'll enter the chamber with an experienced instructor, and be encouraged to lean forwards as if you're falling until you're completely horizontal. From here, the force of air pressure form the high-power jets beneath you will force you floating upwards and you'll be fully in flight.
The instructor will work with you to make sure your safe, your posture is right to ensure you get the best experience and guide you around the room, and if you're extra brave, take you spinning all the way up to the top of the room. While it might seem a little scary, it's completely safe and a gentle way to experience the feeling of a floating without the jump and freefall of skydiving - a much less intimidating experience that we highly recommend.
2. Lake Wakatipu Jet Boating
We couldn't write a blog about a holiday stop in Queenstown without shining a light on the beautiful Lake Wakatipu and one of the most famous ways to experience all that it has to offer - jet boating! Whether you're interested in a less-expensive and more leisurely experience, or an actioned-packed, 'hold onto your hats' thrill ride, there's an option for everyone.
We thought the most useful way to share the amazing experience of jet boating would be to break down the three main jet services available and difference between them, so you can pick the option that works best for you and your group or family.
This is usually the lowest price point for the jet boat experience and is on the lower-end of the thrills scale. With Go Orange, you'll get to explore the main lake, reach high speeds and venture towards the narrower parts of the river. We'd highly recommend this trip if you're sticking to a budget or not interested in too many twists and turns.
The KJet is the middle ground of the jet options in terms of pricing and thrill. On this trip, you'll get a 60-minute tour of Lake Wakitipu, the beginning of the Shotover and Kawarau rivers, and reach speeds of up to A thrilling 60 minute Queenstown Jet boat ride at speeds of up to 95kph complete with 360° spins.
The higher price point and shorter experience (at only 25 minutes total) is made worth it by wall-to-wall canyon action down the Shotover, using an exclusively sectioned off area of the river which includes enough tight turns and close calls to give the biggest adrenaline junkie a run for their money.
Whichever option you pick, we'd highly recommend getting out in the water and enjoying the jet boating experience - it's one of a kind!
3. Arrowtown Gold Panning
Stepping into the colonial settlement and historic mining town that is Arrowtown is like taking a step back 100 years or into something straight out of a fantasy world. The township is described as 'when gold rush history meets glorious nature'. The streets are lined with charmingly olden-day styled cafes and stores, the pavements are cobblestoned and the township itself lies in Arrow Basin, which was carved by the great glaciers of Ages past. It's a small, 'do it in a day' kind of location, only 25 minutes drive out of Queenstown that's well worth exploring.
One of the most exciting parts of Arrowtown that the kids will love, is the riverside gold panning. During the goldrush of the 1880's, European and Chinese settlers were sent to the Arrow river to pan for gold - and gold they found! Fast forward to now, and visitors are still able to try their own luck at striking gold. Pans can be hired from the Lakes District Museum or Dudley's Precinct next to the Chinese Mining Village and taken down to the river.
As local shopkeeper and gold enthusiast, Justin Eden, puts it: ''It is a thrill. There is always that chance you will find something big. It is not an impossibility. There is more gold out there to be found, you just need to get your gear out and go - and maybe some luck, too.''
4. Puzzling World Wanaka
Since way back in 1973, Puzzling World has been striking confusing and tricking the naked eye of visitors, no matter what age, nationality or experience. With a mix of bizarre buildings, rooms of illusion and the world-famous Great Maze this attraction is designed to baffle your brain and challenge your perceptions of reality.
This small establishment in Wanaka has charm and entertainment in abundance. When you first walk in, you're met with optical illusions lining the walls and an angled room that makes you feel as if you're defying gravity. As you make your way through the museum, there are a number of interactive rooms and displays to try and get your head around.
But the trickery doesn't stop there! Once you've unraveled the mysteries of the puzzle museum, head on out to the infamous Puzzling World maze. This iconic attraction has its beginnings here with the world's first 'Super Maze', and will send you on challenge to navigate winding corridors, dead-ends, staircases and bridges on a three-dimensional path to seek out four corner towers and find the experts. A sure fire way to get you step count up!
5. Cardrona Mountain Carting
Deemed by Stuff.co.nz as the "coolest thing to do in New Zealand", the Cardrona Mountain Kart experience is one not to be missed. Once the snow fall from the winter months clears, the Cardrona mountain landscape is left bare and baron, covered in dirt tracks right where skiers were a few months back. We'd label this as the perfect combination of a luge ride and a go-kart, travelling at high speeds strapped into a drift kart typed three-wheeler down the mountainside.
It's important to note that kids must be 8 years old and 100cm+ tall to ride on their own cart – but kids younger or shorter can ride tandem with an adult. Don't worry about safety gear either, it's all included in your ticket price, and you won't have to make your way up the mountain on foot once you've completed the track, you can buy a ski lift pass that will carry you and your kart right up the hillside!
The carts have been operating at Cardrona since way back in 2015; and after much trial and error creating the tracks, we can confidently say that the team has absolutely nailed it and this is a must-do for the area, and a really unique way to get a taste of the snow-capped mountain landscape.
Download the FREE Rug Doctor 12 Stains of Summer Guide
We've put together the perfect companion for your great Kiwi road trip - the 12 Stains of Summer Stain guide. In the guide, we cover off all of the common summer mishaps from how to get tomato sauce out of the carpet, all the way to tanning lotion on the upholstery. You can grab the guide for free by clicking below.