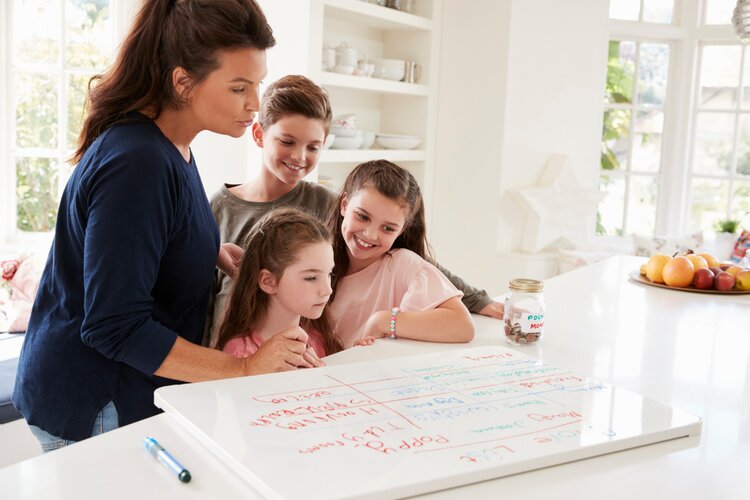 How to Create a Weekly Family Schedule to Keep the Kids Organised
From the morning rush of packing lunch for the kids and getting them to school, to hectic evenings of pick-ups, homework, extra-curriculars and medical appointments - it's a lot to keep track of in your head. It can be very draining and you're bound to forget a few things, so it's a great idea to create a weekly schedule to keep track of everything.
In this blog, we look at a few ways you can go about creating a weekly schedule to keep the kids organised and on top of everything.
Use a Calendar to Keep Track of Everyone's Activities
You can either stick a good ol' fashioned calendar or wall planner in an area that everyone will see like the fridge or pantry, or you could even set up a digital calendar for the family.
Start by getting everyone in the family to pitch in with their appointments, events, extracurricular activities and don't forget to pencil in some time for the kids' homework. With this schedule in place, you can plan the week accordingly to ensure nothing gets forgotten and everyone gets where they need to go.
Pro Tips:
Pencil in work and school, along with any work events, parent teacher evenings, social obligations, etc.
Update the schedule as soon as you have something come up to avoid the risk of being double parked.
Make sure the whole family updates their schedule at the start of the week.
Place the Wall Calendar in a Central Place in the Home
With digital calendars, you don't have to worry about where to put it since it's synced all across your smart devices and will have reminders pop up. A physical weekly schedule needs to be in a central place - if something is out of sight, it's out of mind and you're less likely to to use it. It also needs to be big enough to fit in every single event/appointment. If you're using a whiteboard as a weekly planner, using magnets can be a good way to highlight everyone's tasks and can be moved around if there are any changes.
Pro Tips:
Place it in the centre of your home, where your family spends a lot of time e.g. fridge, kitchens, living room and the dining room.
Ensure it's at eye-level, easy to understand and is clearly visible.
Make it a User-Friendly Calendar
With life running at a fast pace, the last thing you want is to be struggling to set up your weekly calendar. So your schedule needs to be easy to set up and you should be able to make out what everything is at first glance. If you're using an old school weekly schedule, colour-coding it will make it easier to use - and if you're using a digital calendar, reminders will nudge you about any upcoming events or appointments.
Pro Tips (colour-coding):
You can colour-code the type of events across the schedule or assign a colour for each family member.
There are a number of ways you can colour-code, just as long as it works for you and the family to stay organised.
Pro Tips (setting reminders for digital calendars):
Set reminders to notify you of any upcoming events anytime before it starts.
Check in With Your Family
Your week can be packed with back-to-back events/appointments so round the gang up on a Sunday evening for a family meeting to talk about the schedule for the upcoming week. Check on everyone's morale, asking questions like 'what went well this week?", "What didn't go so well?" and "what can we do to make things better for the next week?". Doing this helps to boost morale and put a smile on your face, knowing the schedule is keeping your kids organised and can be changed if need be.
Pro Tips:
Go through the schedule with your kids at the end of each day, and make sure that everyone is aware of what they've got on the next day and what they may need to take with them.
Round the gang up on a Sunday for a family meeting to plan the schedule for the upcoming week.
Overscheduling can lead to burnout, so plan out their week in a way that flows easily and allocate some time to relax and recharge, either individually or as a family.
Along with events, extra-curricular activities and appointments, you can also add in… wait for it… a list of chores! You can delegate a chore to each person in the household, whether it's washing the dishes, mopping the floors, doing the laundry or vacuuming the carpets - so you can keep your home clean and clutter free. A clean home also helps keep a tidy mind and reduces stress which is key in our busy lives.
If you're interested in getting some tips to keep your home clean and tidy, download our Personalised Cleaning Guide today.