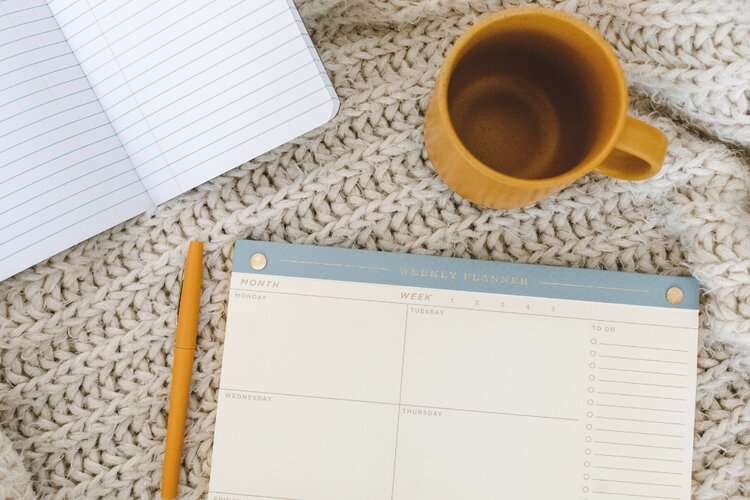 The Ultimate House Cleaning Checklist
Whether you're moving in or out, deep cleaning your home or just tidying up before company comes over - house cleaning is never fun. Thankfully, it doesn't have to be hard or time-consuming. With our ultimate house cleaning checklist and tips, you'll have a healthier, cleaner house in no time.
Download Our Printable Ultimate House Cleaning Checklist.
What's Below
Basic House Cleaning
Setting a House Cleaning Schedule
Creating a Good House Cleaning Routine
Daily House Cleaning Tasks
Weekly House Cleaning Tasks
Deep Cleaning Your House
Moving House
Cleaning Your New Build
Basic House Cleaning
'Cleaning the house' is an ambiguous task. What does a basic house clean include? Well, a professional cleaner's basic house cleaning service usually includes:
Sweeping, vacuuming, and mopping floors
Wiping surfaces (including light switches, doorknobs and any other nooks and crannies where germs like to hide)
Cleaning essential rooms such as bathrooms and kitchens, as well as internal windows and skirtings.
This could take 3-4 hours, but with our best tips and house cleaning checklist, you'll be finished in no time!
Setting a House Cleaning Schedule
When it comes to cleaning your house, a regular cleaning schedule will keep it as low maintenance as possible. Consider breaking down your tasks into easy, manageable tasks throughout the week (check out our daily and weekly cleaning task lists below).
Daily House Cleaning Tasks
Cleaning doesn't have to feel like a chore, the key is to stay on top of it. Instead of spending your entire Saturday or Sunday cleaning the house from top to bottom, spend half an hour each day completing the following cleaning tasks:
All areas of the House
Sweep or vacuum high traffic areas of your kitchen, living room and dining room.
Tidy and put away clutter or at least put it all into one pile to deal with later.
Empty rubbish as needed.
Do laundry as needed.
Bedroom
Make the beds.
Pick up clothing from the floor (put away or place it in the laundry hamper).
Wipe down any condensation on windows in the morning.
Kitchen/Dining Room
Wipe down the kitchen countertops, stovetop, appliance fronts, cabinets and pantry.
Wipe down the backsplash.
Spot clean any food splatters on the wall.
Empty the dishwasher if it's full.
Empty the sink of dirty dishes.
Wash and dry dishes by hand or load the dishwasher.
Clean the sink.
Replace the kitchen towel.
Microwave your kitchen sponge (2 minutes) or replace your kitchen washcloth.
Wipe down the tabletop (and chairs if necessary).
Put away any food or ingredients that have been left out.
Lounge
Wipe down the coffee table.
Tidy up any books, DVDs, magazines, toys etc.
Straighten pillows and throws.
Bathroom
Wipe down the bathroom sink countertop and basin.
Remove any water or toothpaste marks from the mirror and faucets.
Pick up and hang or put any wet towels in the laundry hamper.
Replace flannels and hand towels as needed.
Check the toilet bowl and clean if marks are noticeable.
Creating a Good House Cleaning Routine
You might be thinking, that looks like an overwhelming amount of cleaning to do in just half an hour! If you haven't cleaned in months, it will take longer. But once you start consistently checking off your daily cleaning tasks, it will be quicker and easier, and your house will be much cleaner and healthier!
Think about creating a house cleaning routine. This might be dedicating specific days to complete the weekly cleaning tasks for each room. Or it might be dedicating specific days to completing specific tasks such as vacuuming or mopping the floors.
Weekly House Cleaning Tasks
Additionally, there are a few things you can do once a week to save yourself from that big monthly clean that you never end up getting around to doing…
Don't worry, you don't need to do them all at once. Just pick a couple to do each day and check them off the house cleaning checklist so you know you're not doubling up on your cleaning efforts unnecessarily.
All Areas of the House
Vacuum carpets.
Remove any carpet or upholstery stains.
Sweep and mop floors.
Dust surfaces including furniture, shelves, windowsills, tabletops, picture frames, ceiling fan blades, blinds.
Dust skirting boards and light shades.
Wipe down door handles, doorknobs, and light switches.
Wash and/or air out any pet bedding.
Clean inside windows and mirrors.
Try Rug Doctor's Stain Removal for any hard to remove stains or marks.
Kitchen/Dining Room
Clean your microwave: Remove the turntable (if you have one) and wash it. Wipe down both the inside and outside surfaces.
Clean out the crumb tray of your toaster.
Pull small appliances and movable kitchen objects forward, wipe them on all sides and then wipe down where they usually sit.
Dispose of any expired or spoiled food or drinks from the pantry and fridge.
Check and spot clean any spills inside the refrigerator or oven.
Bedroom
Strip the bed and wash the sheets and pillowcases. Remove duvet cover and wash if required.
Make the bed with clean sheets and pillowcases.
Pick up any dirty clothes and put them in the laundry.
Fold and put away any clean clothes.
Bathroom
Wipe down toilet surfaces including the cistern, both sides of the lid and toilet seat, and the outside of the toilet bowl with disinfectant.
Clean toilet bowl with toilet cleaner or disinfectant.
Clean shower and bathtub surfaces to remove soap scum. Check and remove any hair clogging the drain.
Clean and squeegee shower door.
Clean mirror.
Wipe down faucets
Deep Cleaning Tasks
Everything included in the daily and weekly cleaning schedule (if you've been keeping on top of these, this will be a breeze).
Wash window exteriors.
Clean heat pump filters.
Clean ceiling fans.
Check fire extinguishers and smoke alarms - change batteries.
Clean windows inside and out.
Remove cobwebs.
Wipe down door panels and frames.
Spot clean ceilings and walls to remove marks.
Declutter your house (including your wardrobe).
Check and clean curtains if necessary.
Related: How often should you deep clean your carpet?
Kitchen/Dining Room
Check and clean range hood filters.
Wipe down the outer surfaces of the range hood.
Clean oven.
Defrost freezer.
Clean refrigerator and freezer seals.
Wipe down the top of all cupboards and appliances.
Degrease kitchen drain.
Remove items from the pantry, cupboards, fridge, kitchen drawers and wipe down all surfaces.
Clean the inside of the dishwasher including drain and filter.
Bathroom
Check for and discard any expired personal hygiene and makeup products.
Discard unused or expired medications.
Replace the shower curtain.
Scrub tile grout.
Clean showerhead
Clean shower and/or bath drain with drain cleaner.
Laundry
Remove lint from dryer exhaust.
Scrub laundry tub.
Moving House
Cleaning your house when you are moving out is particularly important if you have been renting or flatting, as this can determine whether you will receive your bond back in full. Your landlord, head tenant, or rental company may provide a list of household fixtures they expect to be clean otherwise our house cleaning checklist is likely to cover their expectations.
I'm selling, do I need to clean my house?
Although it's not a legal requirement, it's a general courtesy for sellers to leave the house clean for the new homeowners. If it hasn't been sold yet, most experts agree that low-cost activities like decluttering and deep cleaning your house can make a big difference when you come to present your home for sale.
I moved into a new house and it's not clean!
Unless stipulated as an essential condition in the purchase and sale agreement, it is not a legal requirement for a vendor to deep clean or have the property commercially cleaned before settlement. Hopefully, if the previous owners haven't been so courteous, our house cleaning checklist will help you blitz through the mess and have it feeling like home in no time.
Do I really need to clean my house when I move in?
Whether the vendor or previous tenants were kind enough to leave the place looking spotless or not, move in deep cleaning ensures there is no dirt or germs left lurking behind. Yes, even if they hired a commercial cleaner. The good news is that if they have done a good job on the cleaning, you'll smash through this checklist with ease.
Obviously, some of the tasks below will only be applicable if you are moving out or have already unpacked e.g. removing items. Use your discretion as need with which tasks you can skip.
All areas of the House
Dust and wipe down skirtings, ceilings, switches, window frames and sills.
Sweep, vacuum, and/or mop all floors.
Deep clean carpeted areas.
Remove all items not listed as chattels.
Remove all rubbish.
Walls
Remove any nails, picture hangers, or tack used to secure pictures or objects on the wall.
If the paint has been chipped or damaged, fill any holes and cover with a fresh coat if required.
Remove any cobwebs, marks, and mould.
Bathroom
Scrub (and bleach if necessary) bathroom grout.
Wipe down all surfaces including the countertop, sink basin, shelves, and drawers.
Disinfect all toilet surfaces including the cistern, bowl, lid, and seat.
Clean all drains including sink basin, bath, and shower.
Check your extractor fan for any build-up of dust.
Kitchen
Remove everything from your cabinets, drawers and pantry, and scrub all surfaces thoroughly.
Clean your dishwasher and oven.
Bonus tip: Clean your refrigerator and freezer while it is empty before moving it.
Window coverings
Check and clean all curtains and fabric blinds.
Dust and/or wipe down all wooden or Venetian blinds.
Related: How to clean your curtains.
Cleaning a Newly Built House
When it comes to cleaning a newly built home, you may think you're getting a clean slate… Unfortunately, every aspect of construction involves dust; there will be construction dust everywhere. The key to winning this battle is being methodical and thorough. We recommend wearing a dust mask while cleaning to prevent inhaling construction dust as it can aggravate allergies and respiratory conditions.
Dust off all surfaces. Tip: Traditional dusters will kick up dust everywhere. Use a vacuum to remove dust completely and then follow up with a wet wipe or cloth.
Disinfect kitchen and bathroom surfaces, doorknobs, railings, and light switches.
Clean all air filters, vents, and ducts.
Vacuum and mop all floors.
Deep clean carpets.
Let the house air out to remove lingering odours.
Download Our Printable Ultimate House Cleaning Checklist.