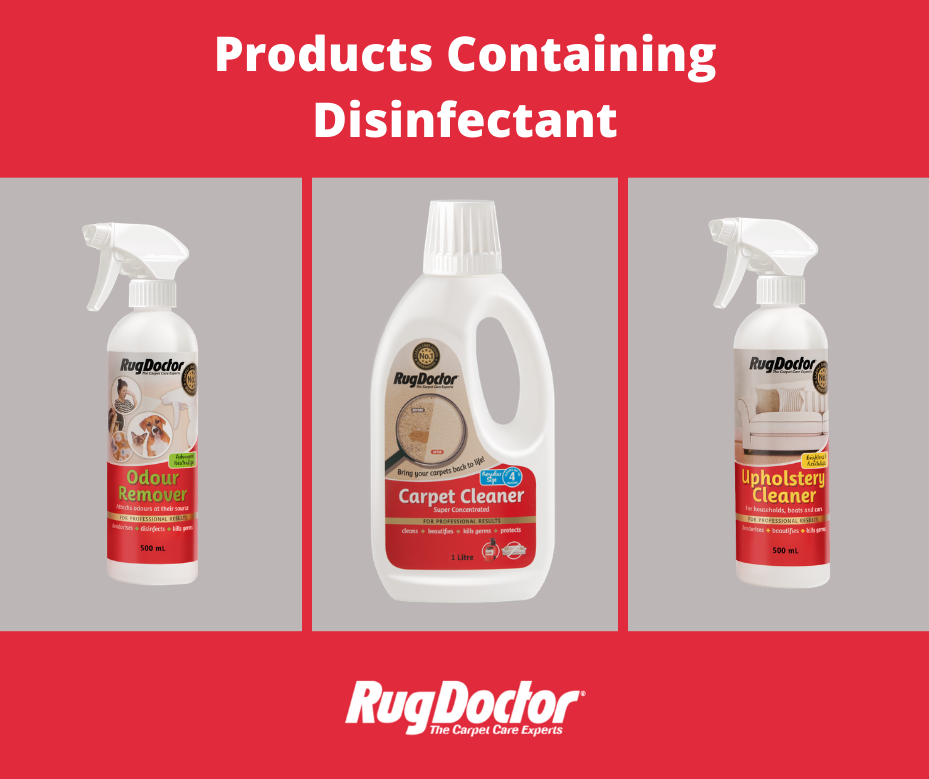 How to Disinfect Your Home with Rug Doctor Products
There's no doubt disinfecting is an important part of the new normal, and current world events have highlighted the need for a hygienic home environment. Thankfully, Rug Doctor's cleaning agents have been developed to attack even the most determined odours, dirt and grime. Yet, they're also safe for general use around the home.
So whether you're looking to clean the carpet, brighten the upholstery or remove odours, Rug Doctor cleaning agents can help you maintain a home that's not only germ-free but spotless, shining and fragrant too. Because it's not only visible mess that needs treatment, but the nasties left lurking in material fibres that need disinfecting.
How to Disinfect Carpet with Rug Doctor Carpet Cleaner
Whether it's spilled wine, mud tracked in by your kids (or your pet), or something a little more serious like blood from a cut finger - your carpet contains all kinds of household accidents in its fibres. And after removing stains, taking the time to disinfect and do a deep carpet clean is a sure way to keep your home regularly sanitised.
As a concentrated formula with high grease and soil cutting ability, Rug Doctor Carpet Cleaner will leave your carpet clean and fresh. Plus, alongside cleaning and beautifying, Rug Doctor Carpet Cleaner will kill germs and help to remove any unhygienic remnants of past household accidents.
Rug Doctor Carpet Cleaner is made to be used in the Rug Doctor Machine. Not only will it help protect your carpet from common germs and mightier microbes, but committing to a regular deep clean also helps to rejuvenate tired carpets too.
How to Disinfect Upholstery with Rug Doctor Upholstery Cleaner
Not only does your living room couch hold bodily depressions from movie night, but it also absorbs the spilled wine that often accompanies a well-timed frightful scene. And as scary as a red wine stain can be, bodily fluids like saliva and mucous droplets, baby drool, and pet urine can be even more alarming.
Thankfully, Rug Doctor Upholstery Cleaner can be used as a general spot remover for slight stains, as well as with the Rug Doctor Machine for a more thorough, disinfected clean. After all, just like in your favourite film, oftentimes it's the things you can't see in real life that are the scariest.
Additionally, Rug Doctor Upholstery Cleaner will brighten and clean your upholstery without harming delicate fabrics. Plus, it will disinfect your favourite upholstery too. That way, everything from your lounge suites to your car upholstery will be left smelling fresh, fragrant and ready for your next movie night in - or date night out.
How to Disinfect and Remove Odours with Rug Doctor Odour Remover
Life happens, right? Your pet misses the training pads, your kid vomits after one too many Easter eggs, and you drop your food and create a new unwanted stain. Then there are the less visibly obvious stains but with a persistent unpleasant odour.
The cause of odours can contain germs and viruses, which means disinfecting is vital. Whether its odours trapped in the carpet caused by undesirable smells from animals, food, smoke, urine or vomit, Rug Doctor Odour Remover can help deodorise, disinfect and eliminate even the most persistent odours.
Not only that, but Rug Doctor Odour Remover can be used in the Rug Doctor Machine or applied directly to carpet and upholstery. Which means that you can quickly clean any obvious odour-inducing stains and disinfect any past causes.
On top of cleaning everyday household accidents and spills, recent world events have highlighted the need for regular disinfection. And it's not only to treat slight stains but also to target any remaining residues - and what they contain. Using Rug Doctor products will help you maintain a healthy home environment for you and your family, from everything you see down to what's hidden underneath.
If you'd like some new ideas for purifying the air and keeping unpleasant odours at bay, check out our blog outlining How to Purify the Air in Your Home to keep everything fresh and inviting.